Dominique Viet
Le Capitole
On the Place du Capitole, you could decide on a view of the town hall or a snap of your feet on your star sign!
This cross was created in bronze by artist Raymond Moretti in 1995.
With Claude Nougaro
Square Charles-de-Gaulle, beside Nougaro (his statue is by the fountain.) Inaugurated in 2014, 85 years after the birth of Claude Nougaro and 10 years after his death, this sculpture was created in the workshop of artist Stéphane Langloys.
The people of Toulouse took part in its creation, as everyone was invited to come and add a « pinch of earth » to the statue. It was then cast in bronze at one of Toulouse's art foundries.
The tourist office also offers regular visits « In the footsteps of Claude Nougaro » that allow visitors to recall the artist by returning to the places where he lived.
In front of the Garonne
On the walkway close to Pont Saint-Pierre, to capture the reflections on the River Garonne.
This quarter was transformed by the development of these walkways in 2014. The terracing offers a magnificent panorama of our beautiful Garonne, the Pont Saint-Pierre and the left bank.
Taking it easy
On a deckchair in the cloister of the Augustins or in the Jacobins Convent, it is the perfect moment to pause and to pose!
In front of the bricks of Toulouse
Have you thought about a beautiful brick wall (for example, in the Raymond-VI gardens)?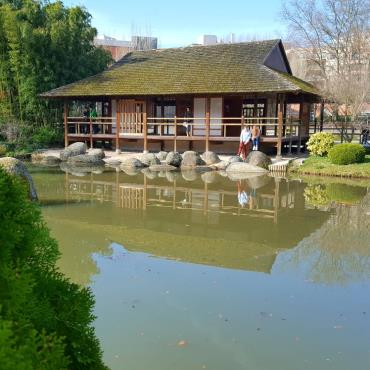 © Cristina Aprile
JARDIN JAPONAIS
TOULOUSE
Parc et jardin
Pour une escale aux confins de l'Orient, on s'offre une promenade zen dans le Jardin japonais, labellisé jardin remarquable.