Ville de Toulouse - Patrice Nin
Jacobins Convent
jewel of southern Gothic
This ensemble was established in the XIII and XIV centuries by the Dominican order. Its church and cloister provide a veritable haven of peace and fresh air.
The convent of the friar preachers
The former convent of the Dominican friars is an imposing building that is characteristic of southern architecture in the XIII Century, famous for its immense ribbed vault nicknamed the « palm tree ».
Entirely restored in 2015, the convent now offers a trail with multi-media support that guides the visitor to explore a cloister, a chapel decorated with XIV Century paintings and rooms that were never before open to the public.
The most remarkable feature that is sure to surprise visitors is the unique vault in the form of a palm tree. The church, with its double nave featuring painted decor and superb stained-glass windows, is also home to the relics of Saint Thomas Aquinas.
As for the cloister of the convent, an island of tranquillity within the city, it regularly hosts concerts and exhibitions.
Chloé Sabatier - Office de tourisme de Toulouse
The "palm tree"
A unique Gothic example of a starred vault
The nave of the church is composed of two bays, with a colonnade in the centre of the church. Great architectural prowess was required so that the last central pillar could support the weight of the vault above the church's choir.
It is the last column that brings together the 22 fine and light ribs of the vault, 28 metres from the ground. This daring solution allowed builders to complete the apse and to open out the long bays that let in the light and give the "palm tree" nickname to the Jacobins vault.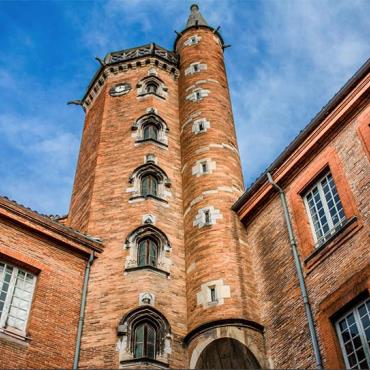 © @angeliquephotography
HOTEL DE BERNUY
TOULOUSE
Historical sites and monuments
With its 26.5 m high capitular tower, this is a mansion that is certainly not lacking in grandeur!
Gilles Martin
Invalid Scald ID.
Chloé Sabatier - Office de tourisme de Toulouse