Le Capitole
An exceptional monument
This is the emblematic building of the Ville Rose: set on the Place du Capitole, it is home to both the town hall and the Théâtre du Capitole.
A majestic building
The seat of municipal power since the XII Century, this neoclassical masterpiece displays its majestic façade of brick and stone to the unmissable Place du Capitole.
Extended, transformed, embellished in every era, the decor displayed on its walls recounts the major events in the history of Toulouse: from the Cathar period to the creation of the Jeux Floraux Society, from the Counts of Toulouse to the siege of the city. Famous for its state rooms, be sure not to miss the Salle des Illustres: Henri Martin, Jean-Paul Laurens, Paul Gervais and many other artists have painted or sculpted the decorations in these rooms.
In the Henri IV courtyard you will find the commemorative plaque marking the spot where the Duke of Montmorency was executed.
Lovers of the lyrical arts? Le Capitole is also the famous opera house of Toulouse.
Dominique Viet
On the Place du Capitole
A major gathering place for the people of Toulouse, the Place du Capitole is adorned with an Occitan cross depicting the signs of the zodiac.
The Occitan Cross, also known as the Languedoc Cross, is a cross made up of 12 branches.
It first appeared under the reign of Raymond VI in 1211, adapted from the armouries of Toulouse. It was employed as the seal of the Counts and later as a symbol of the province of Languedoc and its capital, Toulouse. It is now the emblem of the city and of the Occitania region.
On the ceiling of the arcade walk, on the western side, works by Raymond Moretti illustrate the history of the city.
Behind Le Capitole, the former tower of the city's archives, known as the Donjon, is home to the tourist office.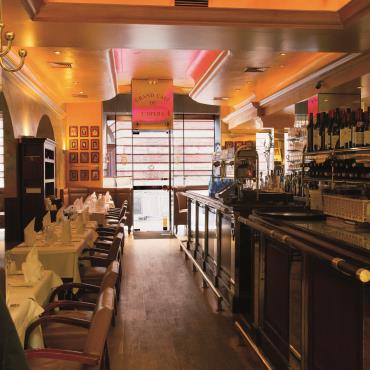 Brasserie de l'Opéra
BRASSERIE DE L'OPERA
TOULOUSE
Restaurant
Un établissement incontournable pour tous les amateurs d'ambiance brasserie parisienne. La qualité de l'accueil, le service efficace, une assiette...
Brasserie
Cuisine traditionnelle
Cuisine traditionnelle
Régionale française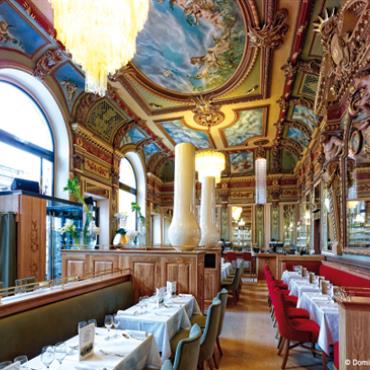 © DR
LE BIBENT
TOULOUSE
Bar-restaurant, Goûter / Casse-Croûte, Restaurant, Salon de thé, Vente à emporter
Découvrez cette brasserie toulousaine de 1843, de style baroque aux accents arts nouveaux situés sur la fameuse place du Capitole. La décoration est...
Brasserie
Cuisine traditionnelle
Brunch
Cuisine gastronomique
Cuisine traditionnelle
Nouvelle cuisine française
Régionale française
Tapas
Le Capitole
Place du Capitole
Tel: +33 (0)5 61 22 34 12 - 31000 Toulouse
Tour of the historical rooms from Monday to Friday: from 8:30 am to 7 pm.
Sundays and bank holidays: from 10 am to 7 pm.
Closed when receptions take place, on Saturdays, on December 25th and on January 1st.
Free admission.
Dominique Viet
Dominique Viet
Anibal Trejo - adobestock.com