Les Abattoirs
Modern and contemporary art
Formerly an abattoir, these vast buildings are now home to exhibitions and events that showcase artists focusing on modern and contemporary art.
The temple of contemporary creativity
The former abattoir of the city is now a museum and the region's contemporary art fund.
Its unique collection of more than 4,000 works covers artistic movements born after the Second World War right up to the very latest contemporary creations.
The immense nave, more than 1,600m² of exhibition space on the 3rd floor, provides a venue for the expression of art from the period following the Second World War right up to modern day artists.
All year round the museum organises exhibitions that allow visitors to explore the artistic movements of our day, tackling the aesthetic challenges facing contemporary creation at the turn of the XX and XXI Centuries.
Les Abattoirs is a living cultural site in Toulouse and is more than just a museum, hosting a programme of concerts, performances, screenings...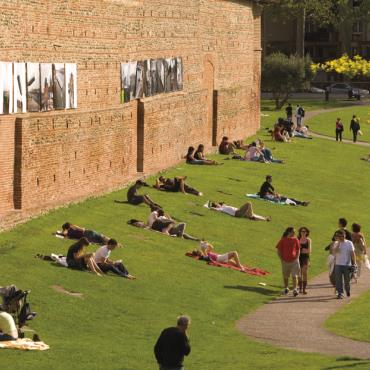 © P. Nin - Ville de Toulouse
JARDIN RAYMOND VI
TOULOUSE
Park and garden
Full view on the Garonne from this garden will give full satisfaction to walkers looking for a place to take a little nap in the sun.
Les Abattoirs
Museum of Modern and Contemporary Art and FRAC Midi-Pyrénées
76, allée Charles-de-Fitte
Tel. +33 (0)5 34 51 10 60
www.lesabattoirs.org
Abattoirs
Ville de Toulouse - Patrice Nin
Ville de Toulouse - Patrice Nin