You have watched with your mouth watering as they prepare their delicious menus on TV.
Don't hesitate to visit the restaurants of the talented chefs of Toulouse who have appeared on television.
Michel Sarran, Top Chef judge
With his black jacket and sing-song accent, Michel Sarran has become the main judge on the TV programme Top Chef. In Toulouse, he is also and above all known for his eponymous restaurant boasting 2 stars in the Michelin Guide. A proud ambassador of the Ville Rose, you can enjoy his menus brimming with originality by stepping into his gastronomic restaurant, located within a large bourgeois house in the Compans-Caffarelli quarter. A tip for those on a budget: the restaurant serves a lunch menu priced at €57 (weekdays), but don't forget to book!
Christian Constant, Top Chef judge
Chef Christian Constant is the owner of an emblematic establishment on one of the squares of Toulouse: Le Bibent (translated as « Drink Well » in Occitan).In this marvellous brasserie that combines the Baroque with Art Nouveau, you can sample authentic gastronomic dishes from the region, such as Toulouse sausage, whilst enjoying unbeatable views of Le Capitole and the square upon which it stands.
Simon Carlier, finalist on MasterChef
Ex-contestant and finalist on season 3 of the show MasterChef, Simon chose to set up home in the charming Carmes quarter, opening his resolutely modern establishment called "SOLIDES". He serves a cuisine in the image of the chef himself: young, dynamic and inventive!
Yannick Delpech, MasterChef judge and  the Meilleur Menu de France
Yannick Delpech, ex- judge on the show MasterChef and Michelin star chef, owns the restaurant Amphitryon situated in Colomiers. Between tradition and innovation, this hotspot of Toulouse gastronomy will seduce you with its cuisine, setting and atmosphere. Situated beside the forest, its conservatory and terrace provide views of the surrounding countryside, bringing a breath of fresh air to his guests and his dishes!
More curious guests can sample his cuisine in the heart of Toulouse, thanks to his establishment Sandyan, on rue Alsace-Lorraine. These innovative concept offers, on one side, a patisserie, a veritable boutique/tea-room and, on the other side, Cuisne de Rue serving mouth-watering street food dishes that have been revisited by the Michelin star chef. Today, Sandyan is typical of the hotspots of Toulouse gastronomy that seek to render gastronomy more accessible.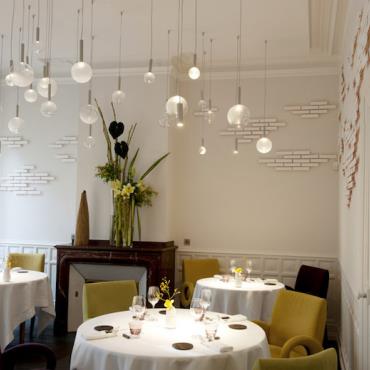 ©JJ GELBART
RESTAURANT MICHEL SARRAN
TOULOUSE
Restaurant
Dans un hôtel particulier, une décoration contemporaine pour des salons intimes. C'est une maison plus qu'un restaurant où l'art de vivre se pratique...
Cuisine traditionnelle
Cuisine gastronomique
Cuisine traditionnelle
Régionale française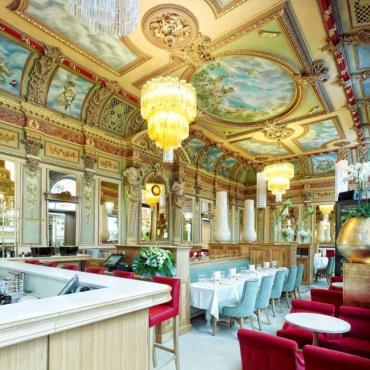 ©DR
LE BIBENT
TOULOUSE
Bar-restaurant, Goûter / Casse-Croûte, Restaurant, Salon de thé
Découvrez cette brasserie toulousaine de 1843, de style baroque aux accents arts nouveaux situés sur la fameuse place du Capitole. La décoration est...
Brasserie
Cuisine traditionnelle
Brunch
Cuisine gastronomique
Cuisine traditionnelle
Nouvelle cuisine française
Régionale française
Tapas